My current travel blog for the most recent decade. You can choose years below and then each year has further sub divisions for trips in that year.
Years 2017 to 2019 have yet to be added. Some years are also incomplete, 2015 and 2016. Just wanted to get this new format up and running.
2016 saw travels in the UK throughout the year. It also saw a winter trip to Paris and a later trip to Thailand.
Cambridge
At various times of the year.
English countryside in summer
Lavenham Suffolk
Flatford Mill Suffolk
Hau Hin - Grand Centara hotel
Phra Nakhon Khiri
Wat Huay Mongkol
Wat Mahartar
Hadn't been to Paris for 30 years, or at least for a long stay, just overnight stops passing through. So a long weekend in Spring or the end of winter seemed like a good idea.
I had forgotten what a beautiful city it is and great for walking.
Famous sites of Paris
Rodin museum
Pere-Lachais cemetery
Pere-Lachais cemetery, possibly not on most tourists list of things to do, but if you have time, is worth the effort. Quite an incredible cemetery, large, avenues, incredibly impressive tombs and then the list of famous people buried there.
2015 saw travels to Marrakesh, Holland and Germany.
My sister Anne and partner Betty were travelling through North Africa on a photographic trip and this afford me the opportunity to meet up with them in Marrakesh at the end of their trip. They live in Australia. So late April headed off to Marrakesh for a long weekend.
Autumn saw me driving off to the Harz mountains in central Germany via a quick stop in Holland.
Jemaa el-Fna
The main area in the centre of Marrakesh. Surrounded by Souks or market areas, nearly all covered and with tight stgreets, where moped riders do their utmost to hit you while trying to get through. It's a maze, a warren of streets where it is easy to get lost, all covered, so no landmarks or anything to get barings on. Absolutely everything for sale in here.
Architecture
Some photos of the Architecture from around Marrakesh. Some of it was staggering and some appeared before our eyes while we stood and watched a craftsman just create it from water and sand
Essaouira
Day trip drive to the costal port of Essaouira. With its 18th century seafront ramparts. It still has a thriving fishing industry and the boats are built locally. Also a great beach in the background of some photos. We were waylaid by a wanna be tour guide, who insisted on taking us around and showing us the ship building industry and how it was all done.
Jardin Majorelle
Former villa of the painter Jacques Majorelle, inhabited by Yves Saint Laurent and Pierre Berge from the 1980s, Villa Oasis is located on the edge of the Majorelle Garden.
Leiden
Amsterdam
Harz mountain region.
October saw me taking a short break in Rome. Somewhere that was always high on my list of cities to visit, but for whatever reason, I had not yet been. Well it surpassed my expectations. So much history, architecture and everything else possible. Simply loved it and will go back, many times I expect. Only down side, god it was busy, even the first week in October. Was also surprisingly warm and generally dry, 26C most days.
December saw my first trip to Prague. More on this later as well as details on a trip earlier in the year to the north of England.
Colosseum, Palatino and the Forum area
First day and it was straight out to the Colosseum, something I had wanted to see for a long time. Glad I got there early and had 2 to 3 hours, because by 12 noon, it was heaving and you could hardly move. It was also hot, so the early start helped. The whole area is quite spectacular and hard to comprehend that it has been there for a couple of thousand years. There's the Arch of Constantine, the Palatine Hill (Palatino) where I understand all the knobs of Rome used to live, Circus Maximus is just down the road and then the hill overlooks the Forum area.
Others
Other sites from around Rome in no particular order, just things I found, liked and captured.
In and around the Old Town square
A Christmas trip to Prague in December was well worth it, although not as "Christmasy" as German and Austrian towns. this I suppose was not surprising, as apparently 70% of the population have no religion, due to the communist years.
The Old Town is really the heart of the city and everything revolves around the Old Town square. The area is rich in old architectural buildings, many of which are apartments or offices. These are all intact as Prague was hardly bombed in the war at all. Some of the buildings are quite spectacular.
The following are just an array of some of the spectacular building in the Old Town area and most are apartments, even the ones with ornate tops and turrets.
Charles Bridge
Some shots of the gates either side of the bridge and the bridge it's self.
The castle area on the hill
The castle area was quite spectacular and well worth a good roam around, down quirky little side streets and weird painted buildings and ornate lampposts.
Below left, a wishing well and ornate doors to the Cathedral and one of the many buildings buildings in the palace grounds.
New Town
Strangely named, as it was far from new, but I suppose it is all relative. Another great area with a wealth of interesting buildings.
Others
The Bone church and Kotna Hora
The Bone church near Kotna Hora. Don't remember all the details, but was around teh time of the 30 year war and too many to bury in the grave yard. So inventive priest did something different! Very weird and creepy. Also took a day trip out into the countryside Bohemia, which was nice, even if the weather wasn't.
Took a trip "Up North" in June, holiday at home for a change. Booked a farm cottage near Barnard Castle in Teesdale. Kept referring to it as North Yorkshire, which I got the impression, annoyed the farmer, as he kept correcting me and reminding me, it was Teesdale. This area is right on the edge of the North Pennines AONB. Beautiful countryside.
Haven't yet finished updating this, so there is lots of text descriptions still to be done!
Various photos from around the Yorkshire Dales National Park and North Pennines ANOB. Unfortunately I did not keep details of where they all are.
On the way home decided to stop at a few places along the way, started in Richmond, but not impressed, so moved on. Stopped in Rippon which was really quite nice.
December saw me taking a 6 day extended weekend to Berlin. Never been there before, thoroughly enjoyed it.
October saw my first real holiday this year, I took myself off to far west Cornwall for a week. Stayed just outside St Ives, near Hayle and spent the week touring the far west part of Cornwall and roaming around the coast paths.
In September had a day in London doing the Open House thing. That's going round all the buildings that are usually closed to the general public and getting a peak inside.
German Bundestag & Brandenburg Tor
Berlin Wall
Took a trip out to the remnants of the Berlin Wall to the north of the city and it was very interesting. A small amount of the wall still remains and there was some very interesting photos and information about it. I had no idea that the majority of tunnels were built from the west to the east, I had always assumed the other way round. But apparently, most tunnels were built from the west to the east to try and help people escape. Most tunnels have names and it is usually a number and that number relates to the number of people who escaped through that tunnel. Below there is a selection of photographs through the life of the wall.
Charlottenburg Palace
Others
Berlin has a small island near the city centre known as "Museum Island". So obviously, it is jammed with museums. These are just a selection. I spent half a day in the German Historical Museum and that still wasn't enough. Didn't have time to get to any of the others.
The Gendarmenmarkt area is actually a square, but at this time of the year, it is covered by a Christmas market and a busy one at that. The square is bounded by two cathedrals, to the south the German cathedral and to the north, the French cathedral. In the middle, between the two cathedrals is the Konzerthaus.
The Antique Quarter is a lovely area of old fashioned cobbled streets around St Nicholas' church. On the Sunday afternoon, it was snowing and they had a choir singing carols, so it was a really nice place to wander around.
Memorial to the murdered Jews of Europe. One would think a somber place for reflection. Not when I was there. There were kids running all over the place and teenagers climb on the stones, so it was a little unruly.
The Neue Synagoge, with it's spectacular dome. Today partly restored and partly open. Quite a history.
Finally, some odds and ends. Kaiser Wilhelm memorial church, the Oberbaum bridge and in this case, the blue water pipes in Berlin, although they do come in all colours.
St Agnes
A lovely little village on the north coast, not far from Perranporth. Really liked it and thought it had a lot of character.
Mousehole
A place I could quite easily retire to, if I had the money. I never knew that the Spaniards had landed in 1595, attacked the town and almost burnt it to the ground. See pictures below.
Mullion Cove
Coastal views
Cape Cornwall
Apparently, the only place in England and Wales with Cape in the title.
Porthcurno beach
What a beautiful beach and such lovely clean water, and it was empty. It was October though.
The Minack Theatre
This was on the cliff top and right next to Porthcurno beach. What a fantastic setting for such a great idea. You have to wonder what happens in the middle of a performance if a storm blows in? Unfortunately, there was nothing on while I was there, but there was school of kids sort of performing.
Prussia Cove
Cornish pubs
Sunsets
Set the camera up on the tri-pod on the balcony to get these sunsets.
Odds and ends
Every year in September, London has an Open House event. Many of the capitals fabulous buildings open their doors to allow the public in to view places they would otherwise never get to see. There are hundreds of buildings open, so a little planning is wise and clear decisions on what you want to see. You can get all the info from their web site. What's open, when and where. I had planned to go both days, but 8 hours walking and on my feet on the Saturday and poor weather on the Sunday meant I gave it a miss on the Sunday. Do more next year.
I had hoped to get into to see Battersea Power station, but decided in the end that the crowds would be too big. This was a once only opportunity to get inside before it is converted into luxury flats, shops and offices. I was right, the queue was 5 hours long at one point. One of the guys at work went and got there early and only queued for about 30 mins and the overall impression was, it was a disappointment. You couldn't really get to see that much as it is a derelict building. So glad I didn't waste my time. My favourite was the Foreign and Commonwealth office.
Foreign and Commonwealth office
The Royal Society, Carlton House Terrace, St James
The Banqueting House, Whitehall
The Guildhall
In September 2012, I took myself off on holiday, driving down to Austria via France, Germany and on the way home Belgium.
I drove far to far, over 2000 miles and spent far too much money on petrol, accommodation and just general expenses. But, I had a fantastic time. Austria and southern Germany being my favourite places in Europe.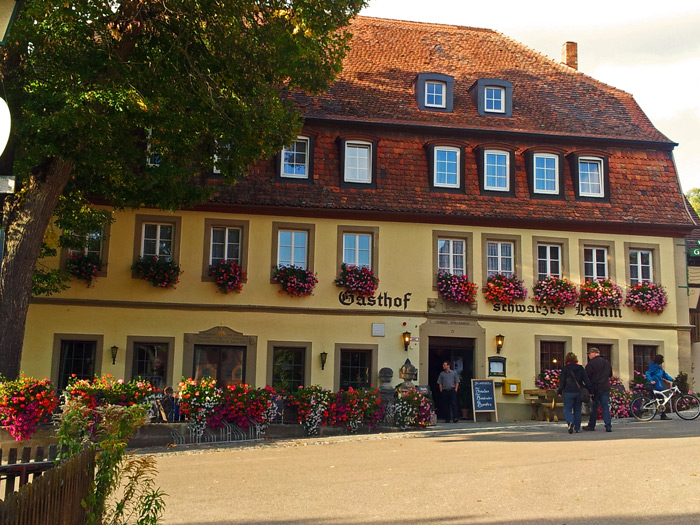 Left the classic Gasthof near Rothenburg Germany. This Gasthof had, from memory, been in the family as accommodation since around 1628. Stayed there on the way down through Germany and on the way back as it was so nice and reasonably priced.
Had decided to take 3 days to drive down to Austria, so first day was to get across to France and head down to Reims. Find somewhere to stay and then explore this historic old city. It has a beautiful old town centre, as do many towns in Europe. It was once the place where French Kings and Queens were crowned. Has big boulevards and a lot of striking architecture.
Drove on into Germany the next day and stopped for lunch and a stretch in the university town of Heidelberg. Hadn't been here for a long time, 1986. Still interesting and worth a visit.
From Heidelberg I moved on to Rothenburg ob der Tauber, which has to be one of my favourite places in Germany. That is why I stayed here on the way down through Germany and on the way back. This is one of the best preserved Medieval towns in Germany. Been here many times and always a great place to visit and stay. On this occasion, stayed just a few Km's outside in the small hamlet of Detwang. See Gasthof above. Rothenburg is almost the start of the Romantische Strasse (Romantic Road) a route through southern Germany, from Wurzburg down to Fussen on the Austrian border. It takes in 350 Km's of picturesque medieval towns and villages and castles.
And so on to Russbach in Austria the next morning. This tiny little hamlet in the Dashstein mountains, 40 Km's south east of Salzburg, is where I had rented a lovely chalet home for the week. Some of the photos were taken on the phone, so the quality so not good.
Sazburg, the birthplace of Mozart. Had some glorius weather while away, it was high 20's on this day, although I did also have a 6 and sub zero overnight and snow. Bit of a mixed bag really.
In the pictures below you will notice all the old fashioned shop signs, mainly metalwork. They don't allow modern ones in historic parts of Salzburg. Not even McDonalds! Why can't other countries do this.
Berchtesgarden, often considered the heart of Nazi Germany, mainly because of it's association with Hitler and his mountain top retreat, "The Eagles Nest". A little reading seems to imply this is incorrect. The Eagles Nest was built by the Nationalist Socialist party and given to him as a birthday present and he rarely used it. So perhaps a bit of embellished history by the victors. Anyway, a beautiful area and town and well worth a visit, as well as a visit to the nearby lake Konigssee.
Some views from the Rossfeld Panoramastrasse, The highest scenic highway in Germany.
Some views from around the Konigssee.
Hallstatt is a beautiful village and area in the Dashstein/Salzkammergut region of Austria. The town it's self is a World Heritage Site. It is absolutely stunning, as is the whole region and looks fantastic with a coating of snow. Well worth a winter trip here.
Inside the Dashstein mountains, the Ice Cave. This was really quite specatcular, as you will see from some off the photos. Unfortunately, because of the low lighting in some of the caves, I had to take the pictures, hand held, on long exposures, so some are a little out of focus.
These picture give a sense of the size of these caves. You can see the walkways which we have come down and in one, in the upper left corner, you can see people still coming down the walkway. Apparently we are standing on 30M of ice in this cave. We were in the caves walking around for an hours. The caves were sectioned into two. The first set were just geological caves with an ambient temperature of 8 or 10C. Then we went through a blocked off door way into the Ice Cave and the temp dropped significantly to about 2 to 4C. Apparently the ice recedes during summer and autumn. It then rebuilds in the winter and spring in particular, when melting snow leeks into the cave system.
Then onto the outside of the mountains and up to the very top, in this case the Krippenstein.
St Wolfgang, another picturesque lake side town.
On my way back through Germany I decided to stop in the Moselle valley. Not been here before, but very much like the Rhein.
Stopped in Leuven Belgium for the night to catch up with a friend living there.
A long weekend in Amsterdam was the prefect spring break, even if it was a belated company Christmas do.
Having never been there before, I found it a fascinating place and a really good walking city, every other street being a canal. I shall definately be going back. Must also try it out for Christmas markets, as it sounds very good.
In May, I drove over and spent a week in South Holland, touring old towns and the Tulip bulb areas of the Netherlands. September produced a trip to South Devon and October a trip to Budapest. Budapest also turned out to be a great place, in spite of the smoking, and will be somewhere on the list of places requiring a return visit.
Well, this is definitely a country of bicycles and this city is mad about them. They seem to rule and have right of way over everything including pedestrians. You really have to watch out to not get run over by them.
Only the Dutch would have multi storey bicycle parks and so many different uses for a bicycle. This is just a selection of bicycle encounters I had.
All the houses seemed to be competing for the most decorative windows above their front doors. A selection below.
Stayed in South Holland for a week and toured around. For those who don't know, North and South Holland are provinces of the Netherlands.
Windmills, the old and the new. Something I had not realised before, how many of the old windmills were thatched and not just the roofs, but also the side walls.
World renowned for it's Tulips displays in the March to May period, we paid a visit to catch the displays. Unfortunately, due to the warm spring we had, the displays were a little past their best and arriving a couple of weeks earlier would have been a better idea. As can be seen from some of the photograph's below, there's an awful lot of green, where the tulip heads have been removed on those past their best.
The whole area is geared towards Tulip production and the hotel was surrounded by Tulip fields, which would have looked brilliant, had they not already been harvested.
Leiden well, it was OK, but didn't see anything of any great interest.
Whereas Delft is well worth a visit. Lovely old medieval town. The town square was worth it, sit out in the sun and eat and drink and then a visit to the Royal Delft pottery. All hand painted. Below are a couple of pictures I tried to take of the "Night Watch", a famous Rembrandt painting. All hand painted blue delft tiles. Lots of them and it must have taken ages to produce.
Both worth a visit.
The Hague had a mixture of old and new, which did not work for me. The old was spectacular and worth seeing, but I felt there was too much new and it spoiled it. Gouda well worth a visit, although I believe it is best to go the last week in June or through July, on a Thursday. Then they do the cheese weighing ceremonies and I suspect it is worth seeing.
They were filming a TV series at the Binnenhof, hence no one in the pictures. It was about a Dutch type Mafia in the 1930's who nearly brought the government down. Or so the pretty young lady from the film crew was telling me. Frankly she could have said anything and I would have believed it.
How many people can you get on one bike, or rather children. This young woman had her hands full, but seemed to be coping. Amazingly, I don't recall seeing a cycle helmet in Holland at all.
Decided to go away in the UK for a change, so took a week off and went down to the South Hams part of Devon and stayed near Kingsbridge. A part of the country I had never been to or explored before. Lovely part of the country and well worth a visit, perhaps some better weather next time. Took a little while to get used to driving a big bloody Volvo around those small narrow country lanes.
Went for a walk along the coastal path between Hope and Salcombe. Weather so so on the day I went, still very high winds at times. They had had 100 MPH winds the day before and horizontal driving rain, so glad I did not go that day. Still struggled to stand up in some very exposed areas.
Liked the Salcombe and the Dartmouth areas, really nice, but becoming very exclusive. They say Salcombe is a ghost town now for large parts of the year, as a lot of homes are 2nd holiday homes and only occupied for small parts of the year.
A long weekend in Budapest made a welcome change at the end of October, a very interesting city. Had been to Vienna last year and these two used to be the main cities in the Austro-Hungarian empire. Again, a great city for walking, although the public transport was great and easy to use. It has a wealth of old architecture, but also a strange mix of old, new, communist era and old that is desperately in need of attention. Some of the old buildings were riddle with bullet holes.
Buda is on the left bank of the Danube and is more the old royal side of what was once, 2 cities.
Andrassy Avenue. This is one of the major boulevards leading out of Pest to the north east, ending at Heroes Square. Its a bit like some of the major boulevards you get in Paris and has some spectacular buildings along its length. A long walk as it is about 2 Km's long.
It's very fashionable in parts with flash homes and shops. The Opera house is also on this boulevard as I think is List's house.
Heroes Square at the far end of Andrassy Avenue. The avenue was built in the 1870's to easy traffic problems and to provide better access to city park, which is just beyond Heroes Square.
Just beyond Heroes square is the city park. You can find another major Spa here, with pools etc.. the Szechenyi Gyogyfurdo. You can also find the Vajdahunyad Vara, which is sort of a museum, but has famous castles and building from all around Hungary recreated.
I had forgotten that Hungary was carved up after the first world war and various parts went to other countries, because it was part of the Austro-Hungarian Empire and backed the Germans. So I had no idea that Transylvania, Dracula country, had been part of Hungary.
On the Sunday, I took a train trip out into the country side to the village of Szentendre on the banks of the Danube. Its a bit of an artists type colony, but picturesque and has apparently been there for over 1000 years.
Took a brief trip up to the Derbyshire Peak District in May, to explore and take some pictures.
In August, went to my first Notting HIll Carnival. Jostling crowds and the need to take pictures very quickly, meant that my pictures were not as good as I had hoped.
September saw me make a quick dash across to the Black Forest in Germany, as I had a week free before starting work again. About time some would say, having only worked 11 weeks in the last 3 years.
The end of November saw a long weekend enjoying the delights of Vienna and the Christmas markets. I loved this city and think it is the best one I have ever visited. Spectacular and especially at Christmas with the markets and the snow.
Went up to the Derbshire Peak district at the end of April, just prior to starting work, after 2.5 years unemployed. Stayed in a nice B & B near Matlock.
Below are some of the pictures I took while walking along Stanage Edge, which is 4 miles long and 460m high. I spent the best part of a day walking along the top of it, and back. It's in the east of the peak district, near Sheffield. The area, near Hathersage, is believed to be the setting for Jane Eyre and it has been used a lot in films and television. In fact, the BBC were filming a new version of Jane Eyre (I think) while I was there, with Dame Judy Dench and some other actors I did not know. They had big Winnibago's up on the moor, parked near where they were filming.
Went to my first Notting Hill Carnival and thoroughly enjoy it, but hard work on the feet.
A selection of pictures below and I have to say, some of the girls were very obliging when it came to posing for photos.
Having found a job in September, I found myself with a week free, so took a quick trip through France, down to the Schwarzwald (Black Forest) in Germany.
Decided to stop in Strasbourg for the night, on my way down. Turned out to be a very nice place, as cities go. Outskirts much the same as any modern city, but the centre was old fashioned and medieval, surrounded by water.
After Strasbourg, I moved over the border, into Germany and the Black Forest.
Spent the remainder of the week just touring around.
The little hamlet of Schiltach.
There was a guy here taking pictures, with some very flash camera gear. He had a gas filled ballon, with a craddle slung underneath it and a camera mounted in the cradle. He allowed the ballon to rise into the air on a rope and took pictures from the camera via a remote control unit with a viewer. Impressive.
Took a brief trip to Vienna at the end of November. Being back at work for a couple of months was hard work after not working for 3 years. So I needed the break.
This has to be one of the most beautiful cities I have ever visited, in terms of history, architecture, walking and of course Christmas markets, as I came at just the right time for those. A nice hot cup of Gluhwein and a Kasekrainer (bratwurst with cheese in it) are perfect for wandering around the markets in the snow. And I say markets, as there was one in every platz.
Some of the pictures are a bit blurred, as I used my small Casio instant camera, as opposed to my Canon and it was cold, so trying to keep your hands steady for night shots was not easy.
Some of the Christmas decorations in the streets.
The Rathaus (Town Hall) during the day and at night, with Christmas market out front. My hotel was just behind this.
No internal photos of any of the palaces, as they don't allow it. Very annoying.
St Stephen's Cathedral
Other odds and sods shots I took while walking around.
The Riesenrad in the Prater park to the east of the city, was made famous in the Orson Welles film "The Third Man", about Vienna just after the war. It's part of a large amusement park.
The Danube Tower with it's magnificent views, but not that day, too cold and misty. The top two floors are a restaurant and cafe, which revolve. They were booked out, so went to the observation deck just below. Bloody cold up there.