My travel blog for the an earlier decade. You can choose years below and then each year has further sub divisions for trips in that year.
The Rhein, Neuschwanstein, Bavaria Germany and Sacred cows, Dehradun India
This section provides a sample of the several hundred photos I took on a trip to Germany, in June 2009.
I drove down the Rhein, over to Wurzburg and down the Romantic Road (Romantische Strasse) to Fussen and then did a little touring in Bavaria.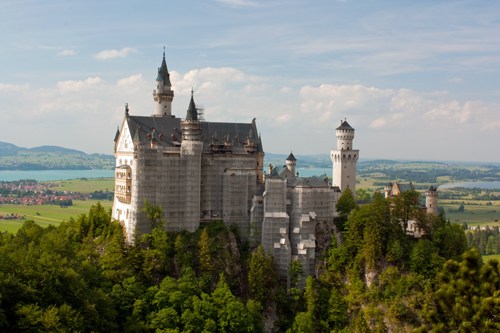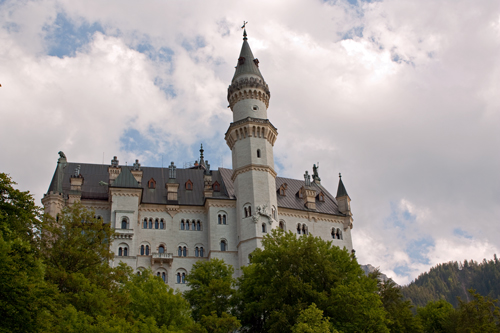 Neuschwanstein, but not how it should look. Not much you can do when you get there and it is covered in scaffolding.
Some of the castles and working barges of the Rhein. You can see some of the vineyards on the slopes, in the background of the pictures. Must be hard work harvesting the grapes.
Drove across from the Rhein to Wurzburg, which is the start of "The Romantic Road", and it goes all the way down to Fussen on the Austrian border. It is renowned for beautiful medieval towns, which have been well preserved.
Having driven down the Romantic Road, you eventually come to Bavaria and I stayed near Fussen on the Austrian border. This is famous for being a Konig Ludwig (King Ludwig) area and his fairy tale castles/palaces are all over the place.
My friends will know that I went to India in August to try some IT training.
I was in Delhi for just a few hours and one nights sleep before catching a 6am train to Dehradun. So I had virtually no time to do any tourism of substance and have no photos to show for it. While in Dehradun, the training was very intensive and near 7 days a week, so I equally did not get any time to do any tourism. The training, unfortunately did not work out (long story), and then I was extremely ill and had to return home. So I have very little in the way of photos to show for my trip.
Dehradun is situated some 250Km's north of Delhi, in the province of Uttarakhand, near the borders of China and Nepal. It is located approximately 2100 feet up in the foothills of the Himalayas. Being a small town/city, it only has a population of around 1 million.
Note... This page was written in terms of the text and pictures, while I was travelling, hence the context is relevant at that time. However, since then the layout and presentation of the web site and pages has changed. So hopefully, it looks better now.
Please read on.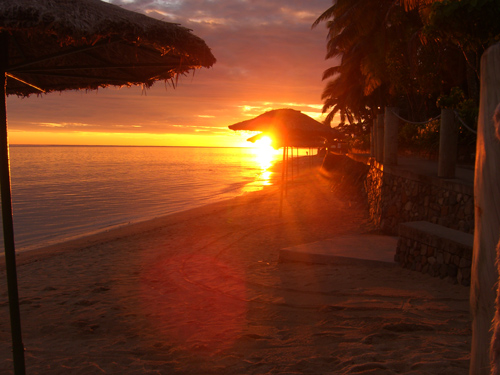 Well readers, that's it, it's all over. Tomorrow (Friday 9th May 2008) I have a little time before heading off to the airport and home on Saturday morning. Hope you have all enjoyed keeping up with me.
Fiji sunset.
Jan 29th 2008 to Feb 5th 2008
Arrived on Tuesday evening (Jan 29th) after short flight from Singapore. As you would expect the weather is hot and humid, between 32 and 38C and 80 to 90% humidity.
Penang has been a bit of a shock, but then it has been over 20 years since I was last here, so I should have expected some change. It's no longer the sleepy little place it used to be. With over a million people, crowded, bustling and tower blocks of apartments everywhere and some sort of development on every corner. Spoiled it really, for me anyway. Shame I booked and paid for a week here, I could have moved on, perhaps to the east coast of Malaysia, where apparently it is still relatively undeveloped. Perhaps next time.
Things are not as cheap as they used to be, but food still is. I have eaten out well most nights on fish etc.. and the odd beer and still cost no more than £10 or £12 and 3 of that was for the beer.
Having the odd shirt made, or at least one to begin with, at £15. I will see how that one comes out and then maybe order some more. Haven't really done any battering yet, as I don't want to buy stuff and then cart it around the world. Shame really, as I have seen things that I like, and I enjoy the haggle. "How much will you give me for this Gourd?". Got into a haggle the other night for a hat that I had no intention of buying. Just stood there and refused to buy it. Price came down from 45 to 15 in a matter of minutes. Great fun, pity I wasn't interested.
Added some additional photos from a round the island tour I did. New house is huge at 4000 square feet and good value for money at £50,000, but I am advised that a traditional timber home can be purchased new, for 50,000 ringgit. Been a lot of rain the last couple of days and I have been caught a bit, so you get soaked, as the storms are tropical. Got my first shirt back after 24 hours and it is great, so ordered 3 more.
Also realised that I had been eating luxuriously so far, at the road side open restaurants. Ate in the food hall the last couple of nights and paid £3.50 for a curry, rice, garlic naan and a beer and the beer cost £1.33 of that.
Feb 5th 2008 to Feb 7th 2008
Arrived on Tuesday morning (Feb 5th) after short flight from Penang. Weather over cast on Tuesday and slightly cooler than Penang, but much more humid. Sunny and hotter on Wednesday. Wednesday night is Chinese new years eve, so all things come to a halt and the celebrations begin. Singapore no different from when I have been here before, still a clean, neat western style city, full of asian people and in the middle of south east Asia. Not really part of Asia. Still a great place for a quick visit. Endless shopping malls, although I didn't see anything that was a bargain.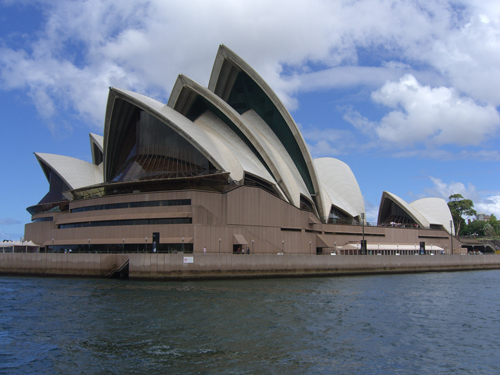 Feb 8th 2008 to Feb 15th 2008
Arrived on Friday morning (Feb 8th) after short flight from Singapore. Weather cold and wet, 13C on arrival and 19C that day. All these people that carry on about Australia and sunshine. This is the best month of the year and it can still be cold.
A bit jet lagged on Friday, as flight from Singapore to short for any sleep.
Saturday, a bit warmer, so out with my sister and explore the Mornington Peninsular, a place I once wanted to live. Much more developed now, but still a great place to live.
Sunday BBQ at Peter and Helen's (thanks to them) for a great day catching up with old friends. Loads of photo's below, including catching up with the Tilligs.
Updated with views of Melbourne, including from the 88th floor of the Eureka Skydeck. Freaked me out, as I am afraid of heights. Had to peel myself from the wall surrounding the lifts, so that I could get some photos. Not easy for me.
Feb 15th 2008 to Mar 6th 2008
Arrived in NSW Saturday night (Feb 16th) after a couple of days driving from Melbourne along the coast. Staying with friends Michael and Judy at lake MacQuarie, north of Sydney. They live in Wangi Wangi, pronounced "onegee onegee". Emphasis on a "w" at the beginning of "one". Have been out and about all over this region, sailing, Sydney, up to where M & J used to have a farm, met some real aussies up there and around the Newcastle - Lake Macquarie area. This is a fantastic lake, some 50 Km's long and the area has some great beaches with good surf. Also visited the Hunter Valley vineyards.
Brief trip to Queensland and then back to NSW.
Drove up to Queensland, stopped overnight in Grafton and had a look in on Nimbin (hippy colony in northern NSW) and Byron Bay, on the coast. Nimbin, a long way off the beaten track, but probably worth seeing once and only once. Byron Bay very nice.
Back in NSW.
Feb 24th 2008 to Mar 2nd 2008
Arrived in Queensland Monday (Feb 25th) after a couple of days driving from Lake MacQuarie. Stopped overnight in Grafton and had a look in on Nimbin (hippy colony in northern NSW) and Byron Bay, on the coast. Nimbin, a long way off the beaten track, but probably worth seeing once and only once. Byron Bay very nice.
Stayed with friends Ann and Dave on the Gold Coast. As with so many places in Australia, a lot of changes since I was last here and lots of development. Also, one hell of a lot of rain, I think it was 18 mm just in one day. This summer in Australia, I have seen so much rain, so as I have told every one in England before, don't believe the TV, it's not always blue skies. I certainly haven't seen as many as I should have.
Moved on to Port Douglas in Far North Queensland on Wednesday 27th. Still a lovely place, developed, but not too much yet. Weather though, hit and miss and I have seen even more rain here. Went diving and had a great time.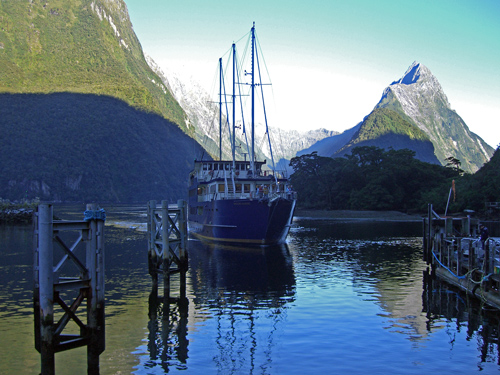 Milford Sound, South Island
Mar 6th 2008 to Mar 8th 2008
Arrived in Christchurch New Zealand Thursday after a couple of hours flying from Sydney. They say that Christchurch is like England in the 50's. I would say that is going a bit far, It is an old fashioned English city, with a wealth of older buildings, but it's still not England. It has that southern hemisphere influence. Interestingly, it is twinned with Adelaide and having lived there for a year, I can see the similarities.
There are many old buildings that have been retained and restored, but I notice in my walking around, that there are many more that have been covered up by modern shop front advertising. What a shame, it could be even better.
It's a lovely city to wander and has very large area of parks right in close to the central business district and a botanical gardens. You will find pictures from the botanical gardens below. It is well worth a visit. There were signs of autumn everywhere, with all the Beech, Oak, Maple and Chestnut trees etc.. Loads of conkers.
Mar 8th 2008 to Mar 17th 2008
Left Christchurch yesterday and headed down the coast to Timaru. Today (Sun 9th) drove inland and down the spine of the south island. Arrived in Queenstown this afternoon.
So far, NZ has not impressed me as much as I expected it to, so I have been a little disappointed. Other than nice gardens and old architecture, towns and cities have been bland and boring. Coastal plains flat and uninteresting and inland the mountains are spectacular, but there has been a lot of scrub countryside, with nothing in it. Also, I thought that Australia would be brown and dusty dry at this time of year and NZ would still be green. Quite the opposite, because of the shear volume of rain this summer in Australia. It was green and NZ is brown dusty and dry. Surprised.
Let's hope that Fiordland (that's the way they spell it) is more interesting. Queenstown is a lovely setting, but again a bland town which is sprawling all over the place and could ruin it. It could have been beautiful, could have built Alpine chalets etc.., instead of modern concrete.
Well Milford Sound was worth it. Woke up to 6C this morning, a bit of a shock (Monday 10th).
Took 8am flight in 3 seater Cessna to Milford Sound (45 mins) and then cruised for a couple of hours and then flew back. Brilliant flight and the Sound was worth every penny. But much colder there, due to wind and exposure. Flight was a little rough in places and only cleared some mountain tops by a couple of hundred feet, so not for the squeamish. They need to take the bus and not get there till gone 11am.
Left Queenstown today (Tuesday 11th). First headed north up Lake Wakatipu, to Glenorchy, a beautiful drive and well worth doing, if you are in the area. Was a hard drive, as it poured with rain.
After that, headed south from Queenstown to Te Anau, which is in Southland. Countryside magnificent, very much like the Scottish glens, but the mountains were much higher. This is my sort of countryside and so I enjoyed it, but found one thing hard to reconcile. In a countryside looking very much like a Scottish glen, it was weird to see various types of palm trees and shrubs next to pine trees.
Wednesday 12th - Added Doubtful Sound photos. It was a long day. Short coach trip to Manapouri, then one hour boat trip across Lake Manapouri, followed by one hour bus trip over mountain pass and down to Doubtful Sound, then 3 hours cruise. Then the return journeys.
Thursday 13th, Friday 14th & Saturday 15th - Central Otago, the west coast and glaciers. Wanaka, in the middle, was in a nice setting. Hokitika, on the west coast, has a lovely beach, but the towns a bit naff. Hanmer Springs in the centre, is in a lovely Alpine setting and I really liked it. I had a swim in the thermal springs while there, which was good, but a bit smelly e.g. Sulphur. The coast line around Kaikoura, on the upper east coast, is brilliant. Great beaches, turquoise sea and then Dolphins and Seals playing in the shallows. I had a close encounter with a seal, much closer than I expected. I was exploring some rocks and taking photos of the coast line, when something moved out of the right corner of my eye. I turned to sea a male seal sunning it's self on the rock next to me, and it was about 4 feet away. So I put a few more feet between us, as the males are quite large and he moved towards me quite quickly. Then another male appeared and a female. Further down the coast there were dozens of them, either basking in the sun or playing in the shallows.
Mar 17th 2008 to Apr 2nd 2008
Before I left the South Island on Sunday evening, they had a minor earth quake of 4.6, under the sea, in the straight between the two islands. Personally, I didn't feel a thing and by all accounts, this was "Only a small one".
Had a good look around Wellington and was impressed. It's not a big city, about 300,000, but seems to have everything, scenic harbour setting, lovely houses up the hill sides, shops, lovely water front. Came across as a nice place to live. Stayed with friends in Lower Hutt.
Moved up country to Mt Egmont, but unfortunately, poor weather meant I was unable to see it. Supposed to be like Mt Fuji in Japan.
March 20th & 21st - Been staying with a friends parents (Denise) in Palmerston North.
March 22nd - Moving through the centre of the north island, towards Taupo, but a mistake, it's a lovely setting, but with no accommodation booked, it's not the right place to go at Easter weekend. It was so crowded, it was ridiculous. So moved on. Some spectacular scenery on the way, like a moon scape at times.
Moving from the Bay of Plenty area to the Coromandel Peninsular. Really like these areas, Finally found some where in NZ that I like enough to say I could live here. Much greener here and wonderful coast lines with magnificent beaches. Had a great day and a great meal in Tairua.
It is really strange driving around all of these thermal areas, with steam just coming out of holes at the side of the road. Then yesterday, driving past a golf course, with guys teeing off in amongst all the steam. Today I visited Hot Water Beach, where the thermal activity is under the sand. You dig your feet into the sand, to see how hot the water is that comes up through it, if it's to hot, move and try again. When you have found somewhere, dig a hole, which will fill with hot thermal water, then lay in it. It's that simple. Not really, the beach is so crowded with tourists and the thermal area is small. So it's a bun fight to get a bit of sand with thermal activity under it. Need to come when it's a little quieter.
Then, went for my first swim in the Pacific in NZ. Great beach, great surf and I did something I haven't done for 30 years. Got into a big wave and it tossed me like a washing machine and then spat me out, head first into the sand. A few cuts and scrapes, but I was OK.
Went sailing on a Catamaran while here, saw one penguin, no dolphins, but had a great time and huge swells at times, which meant the catamaran was up and then down smashing into the waves. Loved it.
Apr 2nd 2008 to Apr 7th 2008
Arrived late on Wednesday April 2nd. Didn't get to hotel till about half past midnight. Lovely hotel, even thou it's not 5 star and it's pretty cheap. Lovely garden setting with lots of lush tropical surrounds. People here in Fiji always very friendly and always have a smile. They make a great effort to learn your first name and to always address you by it. It really makes for a very friendly place. And they are always happy to have a chat. Lovely people.
It's been a long time since I was last here, and difficult to see what changes had occurred in the dark drive from the airport last night. But one thing that was clear, were the stars. Virtually no background light here in Fiji and hence star gazing is incredible. You can easily see the milky way.
Had a busy day today. Been out on the driving range, practicing my golf, I was the only one there. Going diving tomorrow morning, so had to do a test in the pool. and been exploring. Very hot here, 36C yesterday and 33 today, same again tomorrow. Beautiful clear blue sky, all day.
Had a great meal this evening in the main restaurant of this hotel. Very up market, Yellow fin Tuna and Lobster, loads of other bits and pieces (dipping oils, bread, sorbet, taster of another main course, sweet and chocolates) and wine and it's still only came to £30 with tip. Very expensive for over here.
Went diving this morning. It was good fun, but very different from Port Douglas. PD was 1.5 hours on the catamaran to get to the outer reef, about 30 miles out. Today was a 5 minute boat ride from the beach, to the reef. I thought the water here would be cleaner, but at this time of the year, it is not. Apparently when the water is cooler, in the winter months, it is clear. At this time of the year, the water temperature is about 30C and that's means algae and all sorts thriving, so not so clear. I had thought of going diving again, but not very impressed with the dive company. They seemed a bit shoddy. One girl on her first dive, had her hose split when we were down about 6 feet, getting settled. This should never have happened, they should have checked the equipment and seen that it was worn and replaced it. Very poor and dangerous. I also found out, after arriving, that diving is best in the islands to the west and the north east, not here on the south coast. So I choose a hotel in the wrong place.
Had a swim and a bit of sunshine on my return and then went kayaking in the shallows this side of the reef.
Tomorrow, out sailing for the day, around the islands to the west. Long day, leave at 8, back at 7:30. Should be good though.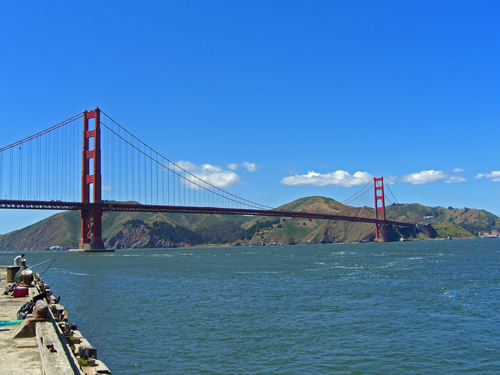 Golden Gate Bridge, San Francisco.
Apr 7th 2008 to Apr 16th 2008
Arrived LA Monday afternoon April 7th, after crossing the international date line for the first time in my life and loosing 24 hours.
Staying at airport hotel for a couple of days, just to get my clock right before any driving. Went for a walk last night but I am afraid airport hotels, by their nature, are not in the nicest areas. Area was a bit dodgy and probably lucky it was still day light. Might have been much worse in the dark.
Only stopped in LA because this is where the plane went. Nothing I am particularly interested in here. So I took a city tour today, to get my bearings and just in case there was something I might be interested in. There wasn't. It's just a very big city with little or no character.
Venice beach, very unusual. Real cosmopolitan mixture of people and absolutely all sorts and then next door, Muscle beach, where they do all the weight lifting on the beach front. Two beach side suburbs, nothing special and then Santa Monica, which was more up market. Very expensive to live in LA (houses) can't personally understand why anyone would want to. Then toured Beverly Hills and Hollywood. Interesting to put something to the names you know, 77 Sunset Strip etc.., but nothing to write home about. There was virtually nothing I wanted to take a picture of.
Picked a car up on Wednesday 9th and headed east out of LA. God it's a hard place to get out of, took me over 2 hours because of traffic, accidents and just the size of the place.
Headed to the Grand Canyon area, which took longer than I planned, due to the difficulty of getting out of LA.
If you get the chance to go to the Grand Canyon, go, it is beyond description and is staggering. 4000 feet deep and you can walk right up to the edge or walk on the skywalk glass bridge. No need to say any more, I let the pictures do the talking.
Drove down into Death Valley this morning and it is spectacular. Difficult to capture on film.
Drove down from a mountain 1300 M above sea level, to the valley floor, which is 90 M below sea level. Temperature on the valley floor was over 30C.
From there, drove on to Mammoth Lakes in the Sierra Nevada mountains, where I stayed for the night. This is 2300 M above sea level and the overnight temperature was predicted to be 0C.
Tons of snow up here still. Apparently they can ski here till the End of May. The piles of it, around the outside of my motel are still 6 to 8 feet high.
Having stayed in Mammoth Lakes overnight, I was only 1 hours drive from Yosemite. What I didn't know, was that the mountain passes are closed for at least another month, because of the snow. So I was told it was a 5 or 6 hour drive north around the top of the mountains and then back down the west side. Turns out it was 8 hours actually.
Anyway, had no choice, so got on with it and a very scenic drive it was. Cut over some of the smaller passes, which were open and found myself driving on roads carved through snow 2 & 3 metres deep.
So, I was well into the swing of it and then coming down the other side of the mountain, I failed to avoid a rock fall and hit a 3 or 4 inch rock and it damaged the side wall of the front left tyre. The car I had was very swish and immediately started to warn me that I was loosing air pressure from that tyre. Found somewhere safe to park and spent half an hour fitting the spare, one of those mini tyres. Then I couldn't drive above 50 MPH and it was a long way down the other side, about 100 miles. Eventually found somewhere to stay, but the car company couldn't get the tyre fixed, so they had to deliver another car, at 9 that night.
Like the Grand Canyon and Death Valley, it is also spectacular. Well worth the drive and the hassles. Some pictures below of the park and the Wawona Hotel, a quaint old fashioned hotel I found in the park, to stay in for the night. Very quiet, no phones, internet or TV, just a book, or in my case a Laptop, to get all this ready to upload at the next connection.
By the way. The hotel warns you that this is "active bear country" and that if you leave anything in your car with a scent, then you may find your car ripped apart in the morning. The literature also warns about mountain lions and how to deal with them. Wonderful!
This hotel was a bit up market compared to some I have stayed in, at $135 a night for the room and breakfast. Splashed out a bit, thought I deserved it after yesterday.
Moved across to the coast in the last couple of days and picked up Highway 1 between LA and San Franscisco. Road very rugged and dramatic.
Then moved on to the Golden Gate bridge.
Apr 17th 2008 to Apr 22nd 2008
Drove into northern California, north of the Golden Gate bridge and for me, it is much nicer than south of SF, or further south, down in and around LA. It has a loverly coast line, dotted with small seaside villages, with wooden homes all over the place. Very nice. Even the Northern SF suburbs are nicer than south of the bridge.
Oregon is beautiful, like one giant forest.
Unfortunately, I am not going to get to see the bits I wanted to. Snow falls in the mountains and my renting a large V8 saloon, instead of a 4 wheel drive, means I can't go up there. I drove towards Crater Lake this morning, but at 5000 feet surrounded by snow, signs indicating chains or snow tyres were required and snow due to start falling within a few hours, meant I headed back to the valleys. By the way, some of the roads peak at nearly 10,000 feet, and in the end, they got 6 inches of snow. There was one road I wanted to turn down, but it was closed with a barrier across. Behind the barrier, the road was covered by about 2 feet of snow.
With snow forecast in the mountains for several days into next week, I may not get up there or the mountains in Washington state. Think I will head for the coast and pick up some whale watching and then hopefully get a train to Chicago and have a few days break from driving.
Have moved on in to Washington state, because the snow in Oregon was seriously hampering what I could do. I am glad I moved on when I did, as the areas of Oregon I have left behind in the last 2 days, have had heaps of snow. Went as close to Mt St Helens today, as I could and that was not because of it erupting, the road was closed due to snow and ice.
From there I have moved on up thru the state, across the water and a few islands from Seattle. I am staying in a small coastal town called Port Townsend tonight. I was feeling a bit down today and lonely, happens when you travel so much on your own. So I decided to treat myself and found a nice B & B Inn. I have a room, big bed, separate bathroom, huge Jaccuzi in the bedroom, fire place and picture windows with views across the water. So all that and breakfast for £66, very expensive.
I toured the coastal area up here and Dungeness had some fabulous homes on the coast, with stunning views across the water to Canada and snow covered mountains behind. What a place to live. They also had Elk's roaming around the houses, even in the back gardens, eating their plants. Strange time of year up here at the moment, spring is trying to break out, in spite of the snow. There are Daffodils, Tulips, blossom trees and Azaleas, all out now. I am sure these don't all come out together at home.
Apr 22nd 2008 to Apr 25th 2008
Had enough of driving for the time being, as I have driven over 9000 miles in the last 3 months, so I have caught the train. Boarded the EMPIRE BUILDER in Seattle yesterday afternoon (April 22nd) at 4:45 PM and arrive tomorrow (April 24th) at 3:55 PM, about 45 hours and 2 time zones. Meandered our way through the Washington mountains yesterday evening and crossed through a small part of Idaho during the night and currently in Montana, but soon it will be North Dakota. Through the night we will pass into Minnesota, then Wisconsin and finally Illinois tomorrow afternoon.
Well my train journey is just about coming to an end. Since we left the mountains, the countryside has been fairly bland, with nothing particular to take photos of. On top of that, I may have missed things due to sleeping during the day, because I didn't get enough sleep at night. 2 days on a train is more than enough for me.
Note... These pictures have been taken from a fast moving train and through windows, so the quality is not great.
Apr 25th 2008 to Apr 28th 2008
Drove into Canada on Friday. Crossed from Detroit into Windsor and arrived at my nephew's place. Have spent a lovely weekend here relaxing with family. Watched Wayne play rugby (he's getting a bit old for it) and hit a few balls at the local golf range.
Apr 29th 2008 to May 9th 2008
Drove from Niagara down through New York state, into western Pennsylvania and into West Virginia, over the last couple of days. Beautiful countryside in the latter two. Loverly forests in Pennsylvania and the Appalachian Mountains in West Virginia and Virginia, are stunning, covered in trees which are bursting into life. I have been to New England in the Fall, but with the forests here and the new growth at the moment. I think this area could be better.
Concentrated on the James River area today, which if you are ever in this area, is worth a visit. This is a very old part of the states and has a lot of history. There are loads of old plantations to visit on the road down to Williamsburg. It's like touring wineries. This is John Smith country, if you know who he is (Pocahontas). According to the info, he later navigated Chesapeake bay. Some of the areas around here, have had their 400th anniversary. It really is a loverly area, with fabulous homes and great locations to live in. Williamsburg has some very old buildings and even had Union Jacks flying from the flag poles. There is also Jamestown, one of the very first settlements, and Yorktown to visit.
I then moved on and crossed the mouth of the Chesapeake Bay, which is a combination of roads on stilts, out of the water, Two tunnels, each over a mile long and a couple of bridges. The road way is about 18 miles long. There are some photo's below, not sure if they do it justice.
Drove up through Maryland in the last couple of days, a strange state. Very flat and uninteresting countryside over in the east, with the Atlantic on one side and the massive Chesapeake Bay on the other and it is big. Lots of loverly old towns and villages, some on the coast in great locations. Then huge population density around Washington DC and Baltimore. Got caught in the peak hour rush last night, which was massive, 5 lanes each way and solid. Stayed in Westminster MD last night and just north of Gettysburg PA tonight. Some of these old towns have a lovely old character, but it strange to see people laying or sitting in the street at 10 in the morning. Spring is also bursting into life here, so blossom trees, azaleas and all sorts are creating colour all over the place.
Drove into Lancaster county Pennsylvania today, this is Amish country. It is a lovely part of the country, so it is understandable why they settled here. From there, I drove on into New Jersey, through Trenton and Princeton. I can see why people want there kids to go to university here. It is a wonderful area to live in and the houses are huge, palatial by our standards.
Drove into Manhattan on Monday morning, a little hair raising. Have a hotel in Midtown, just a couple of blocks from Times Square. This place is absolutely crazy, it really is a concrete jungle and every street is like trying to fight your way down Oxford street. It's a very interesting place, but not being a city person, I don't think I could live here. Went on a helicopter ride around Manhattan this afternoon, so there are a selection of photo's below.
Went to the top of the Rockerfella centre twice today, once during the day and the other this evening. Haven't bothered with the Empire State building, as the queues can be over 2 hours. Photo's below.