In September 2012, I took myself off on holiday, driving down to Austria via France, Germany and on the way home Belgium.
I drove far to far, over 2000 miles and spent far too much money on petrol, accommodation and just general expenses. But, I had a fantastic time. Austria and southern Germany being my favourite places in Europe.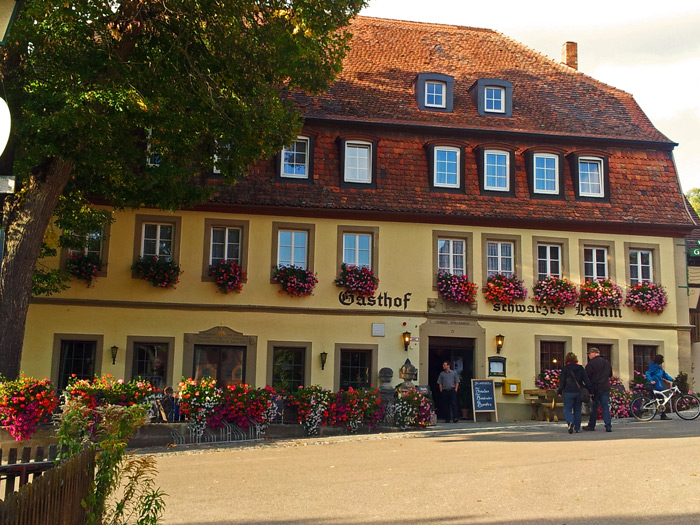 Left the classic Gasthof near Rothenburg Germany. This Gasthof had, from memory, been in the family as accommodation since around 1628. Stayed there on the way down through Germany and on the way back as it was so nice and reasonably priced.
Had decided to take 3 days to drive down to Austria, so first day was to get across to France and head down to Reims. Find somewhere to stay and then explore this historic old city. It has a beautiful old town centre, as do many towns in Europe. It was once the place where French Kings and Queens were crowned. Has big boulevards and a lot of striking architecture.
Drove on into Germany the next day and stopped for lunch and a stretch in the university town of Heidelberg. Hadn't been here for a long time, 1986. Still interesting and worth a visit.
From Heidelberg I moved on to Rothenburg ob der Tauber, which has to be one of my favourite places in Germany. That is why I stayed here on the way down through Germany and on the way back. This is one of the best preserved Medieval towns in Germany. Been here many times and always a great place to visit and stay. On this occasion, stayed just a few Km's outside in the small hamlet of Detwang. See Gasthof above. Rothenburg is almost the start of the Romantische Strasse (Romantic Road) a route through southern Germany, from Wurzburg down to Fussen on the Austrian border. It takes in 350 Km's of picturesque medieval towns and villages and castles.
And so on to Russbach in Austria the next morning. This tiny little hamlet in the Dashstein mountains, 40 Km's south east of Salzburg, is where I had rented a lovely chalet home for the week. Some of the photos were taken on the phone, so the quality so not good.
Sazburg, the birthplace of Mozart. Had some glorius weather while away, it was high 20's on this day, although I did also have a 6 and sub zero overnight and snow. Bit of a mixed bag really.
In the pictures below you will notice all the old fashioned shop signs, mainly metalwork. They don't allow modern ones in historic parts of Salzburg. Not even McDonalds! Why can't other countries do this.
Berchtesgarden, often considered the heart of Nazi Germany, mainly because of it's association with Hitler and his mountain top retreat, "The Eagles Nest". A little reading seems to imply this is incorrect. The Eagles Nest was built by the Nationalist Socialist party and given to him as a birthday present and he rarely used it. So perhaps a bit of embellished history by the victors. Anyway, a beautiful area and town and well worth a visit, as well as a visit to the nearby lake Konigssee.
Some views from the Rossfeld Panoramastrasse, The highest scenic highway in Germany.
Some views from around the Konigssee.
Hallstatt is a beautiful village and area in the Dashstein/Salzkammergut region of Austria. The town it's self is a World Heritage Site. It is absolutely stunning, as is the whole region and looks fantastic with a coating of snow. Well worth a winter trip here.
Inside the Dashstein mountains, the Ice Cave. This was really quite specatcular, as you will see from some off the photos. Unfortunately, because of the low lighting in some of the caves, I had to take the pictures, hand held, on long exposures, so some are a little out of focus.
These picture give a sense of the size of these caves. You can see the walkways which we have come down and in one, in the upper left corner, you can see people still coming down the walkway. Apparently we are standing on 30M of ice in this cave. We were in the caves walking around for an hours. The caves were sectioned into two. The first set were just geological caves with an ambient temperature of 8 or 10C. Then we went through a blocked off door way into the Ice Cave and the temp dropped significantly to about 2 to 4C. Apparently the ice recedes during summer and autumn. It then rebuilds in the winter and spring in particular, when melting snow leeks into the cave system.
Then onto the outside of the mountains and up to the very top, in this case the Krippenstein.
St Wolfgang, another picturesque lake side town.
On my way back through Germany I decided to stop in the Moselle valley. Not been here before, but very much like the Rhein.
Stopped in Leuven Belgium for the night to catch up with a friend living there.