Neuschwanstein, Bavaria Germany and Sacred cows, Dehradun India
This section provides a sample of the several hundred photos I took on a trip to Germany, in June 2009.
I drove down the Rhein, over to Wurzburg and down the Romantic Road (Romantische Strasse) to Fussen and then did a little touring in Bavaria.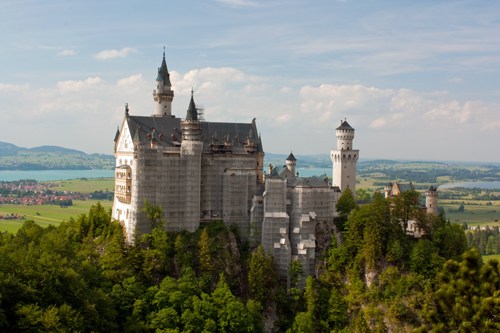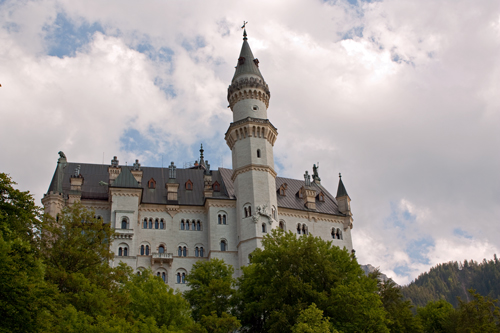 Neuschwanstein, but not how it should look. Not much you can do when you get there and it is covered in scaffolding.
Some of the castles and working barges of the Rhein. You can see some of the vineyards on the slopes, in the background of the pictures. Must be hard work harvesting the grapes.
Drove across from the Rhein to Wurzburg, which is the start of "The Romantic Road", and it goes all the way down to Fussen on the Austrian border. It is renowned for beautiful medieval towns, which have been well preserved.
Having driven down the Romantic Road, you eventually come to Bavaria and I stayed near Fussen on the Austrian border. This is famous for being a Konig Ludwig (King Ludwig) area and his fairy tale castles/palaces are all over the place.
My friends will know that I went to India in August to try some IT training.
I was in Delhi for just a few hours and one nights sleep before catching a 6am train to Dehradun. So I had virtually no time to do any tourism of substance and have no photos to show for it. While in Dehradun, the training was very intensive and near 7 days a week, so I equally did not get any time to do any tourism. The training, unfortunately did not work out (long story), and then I was extremely ill and had to return home. So I have very little in the way of photos to show for my trip.
Dehradun is situated some 250Km's north of Delhi, in the province of Uttarakhand, near the borders of China and Nepal. It is located approximately 2100 feet up in the foothills of the Himalayas. Being a small town/city, it only has a population of around 1 million.